WHMIS Training and Certification
Certified Forklift Trainers In Mississauga, Ontario
We now offer both the new GHS 2015 WHMIS as well as the 1988 Course ​
WHMIS stands for Workplace Hazardous Materials Information System. The Ontario Ministry of Labour requires all employers to have their employees trained in the new GHS WHMIS system, this is the new Global System that has been developed in order to have one common system to be used by all, Globally. Employers are required to have their employees trained when they will be exposed to chemicals and or substances that can potentially be dangerous. This system was designed to ensure the safety of employees by training them in the safe handling of chemicals, substances or material that may be considered Dangerous or hazardous.
Our WHMIS Courses will ensure that the employee is aware of the various symbols and their meanings both from the old (1988) as well as the new (2015) system. It will help them to know how to safely handle, transport or dispose of substances. ​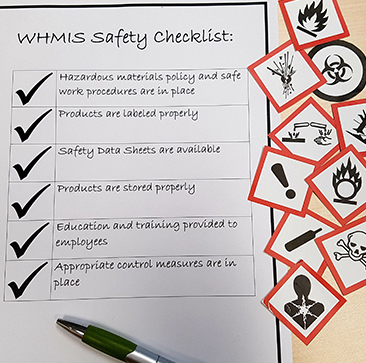 It will help them to understand and be able to read the MSDS Material Safety Data Sheets in case of an emergency. WHMIS training and certification is essential in ensuring that the employee stays safe and is also looking out for the safety of those around them. Proper WHMIS training is not only important; it can be a major factor in creating a healthy workplace environment for all.
Workplace accidents can be prevented and avoided with proper WHMIS Training (Injury Statistics).
There a many "Online" courses available, however individuals should keep in mind that not all Companies will honour those type of Certificates as it is very easy for people to cheat on the tests. (someone else could do it for you)
​ In-class and Formal training is always best and recognized by all.
We cover the following areas:
Whmis Training Brampton, Whmis Training Mississauga, Whmis Training Caledon, Whmis Training Etobicoke, Whmis Training Toronto and Whmis Training GTA.