Working At Heights
Industrial Fall Arrest/Fall Protection Training and Certification
Fall arrest/Fall prevention training is a legal requirement for individuals who perform tasks at specified heights which could be considered dangerous as stated in the Ontario Safety Standards. Every year there are numerous accidental falls resulting in injury and sometimes death due to workers not performing tasks with Fall Arrest and Fall Prevention in mind. This is a unfortunate and disappointing fact throughout the workplace.
With the basic knowledge and safety awareness that this type of training offers, we can reduce falls, injuries and deaths. Various fields of work would fall into this category some of which include Construction settings, Electrical contractors, Maintenance workers and some type of Installation Service Providers.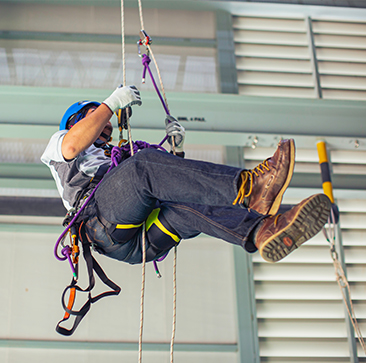 Operators of Aerialwork Platforms and Orderpicker Machines are also required to take the fall arrest training due to the fact that they will be working at great heights and should be aware of the dangers associated with the machines and the potential hazards of falling. They must know how to properly use safety devices such as tethers and harness they should also how to properly prevent falls and minimize fall hazards.